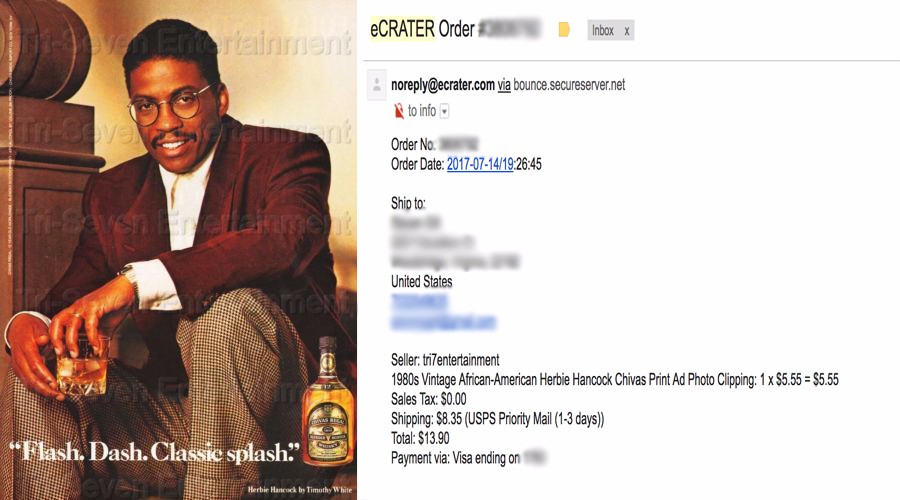 I almost forgot to tell you guys! I received a particular sale today from a site called eCrater.com. Totally forgot I had items on there. I receive a few sales from the site from time to time. Anyway, here's a way to make money on Ebay with absolutely NO MONEY!! IT'S TRUE. And guess how? Selling OLD MAGAZINE CLIPPINGS!!! It's HOTT on Ebay -- search on there yourself!!
I was selling all kinds of things when I first started selling on Ebay years ago -- and selling old magazine clippings was one of the many ways I started making money online! I found some old EBONY magazines (lol, that I didn't pay for) and started listing some of the clippings on Ebay! Totally legal. Totally legit.
I no longer sell clippings on Ebay but forgot I had some listed on eCrater, a small online retail site. And guess what?? Well, the photo says it all -- someone paid $5.55 for the clipping and want it shipped via $8.35 USPS PRIORITY MAIL!! It will not cost me $8.35 to ship via Priority. Profit: $9 (approx).
Seller: tri7entertainment
1980s Vintage African-American Herbie Hancock Chivas Print Ad
Photo Clipping: 1 x $5.55 = $5.55
Sales Tax: $0.00
Shipping: $8.35 (USPS Priority Mail (1-3 days)
Total: $13.90